Your quick and affirmative response to our request for an interview has made us, the Kayip Rihtim team, and our members very happy. Here are our questions.
Let's get started with your character John Perry, also a favourite in our country. He has a very special place in our hearts. That he is as stranger to everything as us and he can treat every situation lightly seems to cause this feeling. Do you agree? And which character(s) of yours is a favourite for you?
It's true that John Perry treats most situations with humor – it's his way of dealing with an overwhelming change in his life. Think about it: If you lived all your life on earth and then went into space, and were required to fight all sorts of alien life who wanted to kill you, you would have to find a way to have it all make sense in your head, too!
John Perry is also meant to be a person that most readers can understand and sympathize with – he's a normal person instead of a superhero. I think that makes him accessible and someone most people, wherever they are, can see themselves knowing and liking.
Is it a sly reference to yourself or inspiration from somewhere else that Perry is your namesake? Does your circle compare you with Perry?
John Perry is not named for me – he's actually named for two members of the American rock band Journey. His first name comes from the keyboardist, Jonathan Cain, and the last name comes from the former lead singer, Steve Perry. In the first chapter there's also a character named Steve Cain, which is the first name of the singer and the last name of the keyboardist.
People often ask me if John Perry is supposed to be me, and I tell them no – although when the story starts he does live in my hometown! But as a person he's different than I am. Of all the characters in Old Man's War, the one who is most like me is Harry Wilson.
This question is about Jared Dirac. The main character disappears in the sequel and is not missed much although he is mentioned only once. How did you manage this? That Jared made himself loved by many is obvious, considering his unique character, emotional and withdrawn. This is in fact a big irony compared to that of Perry. They are of opposite characters. Can we think of John Perry as an elder brother to Jared? How does his creator defines Jared Dirac?
When I wrote The Ghost Brigades, it was supposed to be a sequel to Old Man's War, but one of the things I worried about is that people would see the new book without having read the first book, and would put it down because they thought they wouldn't be able to follow what was going on. I didn't want that to happen, so I wrote a book that I thought could stand alone – that is, if you only read Ghost Brigades and not Old Man's War, you would still have a good time with it. One way to make that happen was to give it a whole new lead character, in this case Jared Dirac.
Jared did have to be different than John Perry in part because I didn't want readers to think I could only write one type of character. But also, he was a certain type of character – he was a member of the Special Forces – and as that type of person, he would have a different sort of life than John Perry and other humans would. For that reason, he had to be portrayed differently and have a different personality.
I don't personally see John Perry as an older brother to Jared Dirac, but I can see why others might want to, and I am fine to let them make that association.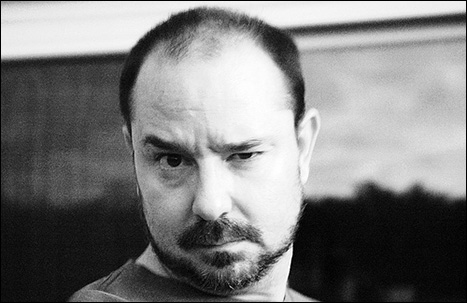 Did you suppose Old Man's War would have such a big group of fans and be translated to other languages during the writing stage? Did you think of writing sequels to the book from the beginning or did they come up later?
I had no idea that Old Man's War would be as successful as it has been. When I wrote it, I wasn't thinking about sequels or a series or anything else; all I was thinking about was writing the story and making it right. I think that's the best way to do it: Just focus on what you're doing right now, and then deal with the future if it happens.
That said, I think it's very cool that my books have been translated into so many languages all across the world. I love getting the copies of my books from other countries, and I like the idea that, for example, somewhere in Turkey right now, someone is reading a story of mine. It's mind-blowing, if you think about it.
Many in our country are in doubt about science fiction. This is because the genre is known to be challenging and puzzling. Reading and understanding the genre requires a certain level of background. But your books are just the opposite. They are fluent, fun and amusing, but the factor of science is not lost and people of all backgrounds read the books without hesitation. How do you manage this?
The secret is my mother-in-law. No, really: My mother-in-law Dora does not read science fiction, but because I am her son-in-law, she wants to read what I write. I want her to be able to enjoy it, so when I'm writing science fiction, one of the things I ask myself is: How can I explain this topic or event in such a way that Dora can understand it, but it's still interesting enough for people who read science fiction all the time? If I can do that, then, as you say, anyone can read the books.
Also, I'm a big believer in the idea that science fiction should have at least a couple of writers working in it who reach out to readers who have never tried science fiction before, and make it easy for them to enjoy it. Here in the US, we call that "gateway science fiction." Most of my books are that sort of science fiction. I get a lot of readers who tell me "I don't usually read science fiction but I like your books," and I tell them thank you, and point them in the direction of some other science fiction authors and books they might like.
How does it feel to be the president of Science Fiction and Fantasy Writers of America? Are there differences between John Scalzi the Writer and John Scalzi the President? What is John Scalzi like in real life? Serious? Humorous? A secret CDF soldier with a BrainPal?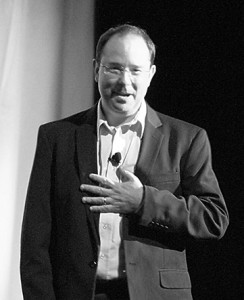 Well, John Scalzi the writer mostly works alone and doesn't have to find a way to find common ground with anyone; John Scalzi the president of SFWA has to work with the Board of Directors and is responsible to the organization's 1,800 members. So indeed the two jobs require different skills. It doesn't mean that the writer and the president are two different people, just that one job asks for certain things from my brain, and the other job asks for something else.
I like to think the "real me" is humorous most of the time and serious when he needs to be, but one of the great ironies of life is that we are not always a very good judge of who we are as people. You would have to ask one of my friends what I am like in real life. I am sure they would tell you many things – some of them things I wish they would not!
Considering that the rate of US SFF readers is much higher than in Turkey, what would someone at your position suggest to increase the number of readers here?
I don't know enough about the literary scene in Turkey to give you any advice that would be useful, I suspect. That said, since you asked, one thing I would be willing to believe is that in Turkey people enjoy science fiction films, television shows and video games – so making the argument that this is just a different way to enjoy stories they already know they like might be the way to go.
Old Man's War in fact opens arms to people of all nations and all opinions. John Perry even sees Muslims praying when he climbs over the Beanstalk. On the other hand, it is also remarkable that the US stays on Earth while other smaller countries assume the notion of protecting Earth in the space. With all of these in mind, can you define yourself as a humanist? If not, which opinion do you feel yourself close to? It may be that you have unique Scalzi rules. And also, can you claim to think of the Earth as a global village based especially on the CDF logic?
One thing I think is important to note is that the future will not just belong to the United States, or to Western Europe. I think the US will continue to be influential in the future, but it's not the only game in town. So when I write the future, I want to make sure the rest of the world is in there too. I just think that makes sense. I'm not sure that I necessarily see the world as a global village, but I do think everyone in the world has a vested interest in it; we're all in this together. Likewise, I am not sure how you are using the word "humanist" here – there are possibly translation issues – but it's accurate to say I think a multiplicity of perspectives and beliefs is better for humanity than the belief there is only one right way to do things. I do also think we have to learn to live together, because the alternative is grim.
Zoe's Tale will soon be published here. But we know that John Scalzi is not only a SF writer, but also is active in the genre of Fantasy. Which of your books will Turkish readers also read? Is it SF, Fantasy or another genre? Are there other copyrighted books of yours? And which of your books you'd like to be introduced to us?
Which books you read in Turkey is entirely up to the publishers there! They are the ones who buy the books and translate them. I do imagine that the science fiction books are the ones most likely to be published there; I'm not sure if there is a market for the non-fiction work I do.
You announced the completion of "The Human Division", from the universe of Old Man's War. You worked on many other books after Zoe's Tale. How did it feel to return to this familiar universe and tell new stories from new characters?
I enjoyed it very much. One of the things I've always said is that while I was not against returning to the Old Man's War universe, I didn't want to do it until and unless I had new stories to tell and that doing so would be interesting to me as a writer. It took me a few years until I was ready to do that. In the meantime I had a very good time writing other stories. I think it's good to have a hand in all sorts of different things.
"The Human Division" is not a traditional novel: it has an episodic structure with a few stories and a few novellas. It will even be "serialized" on the Internet, like a season of a show. Can you tell its reason and the difficulties/conveniences experienced within the writing process, for those who are interested?
We did it this way mostly to see what it would be like and also because with electronic publishing, we're in a place where you can try different things with stories and see if they work. In one sense, serialized fiction is not new – it was done all the way back in the 1800s – but in another sense, we're trying a new spin on it here, and it will be interesting to see how it does.
For me it presented the challenge of writing several stories that had to stand on their own, but when read together show a narrative arc like a novel should. This was new, and a lot of work!
Do you make researches before writing a story or continuing with your book, or do you blend your current knowledge with your imagination?
I usually just make stuff up as I go along, and research elements of the story when needed. I am not the most organized of writers, but thankfully, here in the age of the Internet and information constantly at one's fingertips, I do not have to be.
You are now among the important and well-known authors, which is a huge success. Are you satisfied with your current position? How do you define the situation: unbelievable, amazing, goal achieved. What are your further goals?
I am happy in that when I was a child, I wanted to be a writer when I grew up, and now I have gotten to be that! In one sense, I have done the things I have wanted to do: I am known as an author, I am financially successful and I get to write what I like. But in another there are always new things to write and new ideas to explore, and I am looking forward to doing that as time goes one.
Do you have idols that you have thought (and still do) "I wish I could be in X's place"? Can you name these authors and their works most favorable with you?
There are of course authors who I admire, as writers, as people, or as both. But I don't tend to wish I could be in their place. One, I like being me! Two, the fact of the matter is that another author's success does not mean they are keeping you from being successful in any way – indeed, if authors in your genre are very successful it means their readers will be looking for other things in the genre to read, and that's good for every other author. So I tend to be happy for authors who are successful and am also happy to be me and work on my own place in the world.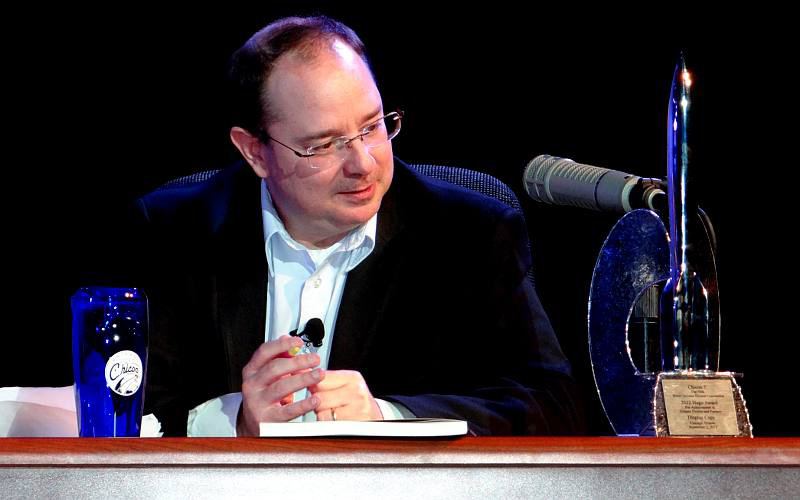 Being the president of SFWA, you definitely chair a most important structure. What is your estimation of the association's future? Can you talk about your individual targets and those determined together with the members?
I think SFWA is at an exciting time in its history, because the publishing world, especially in the US, is changing quite a bit. The organization is at a unique place to be able to help its members figure out what's going on out there, and to navigate it so their careers thrive. That's my goal for the organization, and I think the rest of the members are in sync with that, too.
In your opinion, where is SFF literature heading and where is its peak? Will it reach to a level surpassing the classics and their writers?
Well, to be clear, I think some of the best writers that science fiction and fantasy have ever had are working right now – with all due respect to the writers of The Golden Age of Science Fiction, today's writers are more diverse, tell more and different stories, and are exploring parts of the genre that haven't been visited before. It's always a problem to guess where the genre will go and who will be seen as important in fifty years – you have to wait to see what writing stands the test of time and what doesn't. But I do think in 50 years some of the writers working today will be mentioned in the same breath as Asimov, Clarke and Heinlein.
What is your opinion about popular novels on love and vampires or supernatural beings with a high libido?
If it makes people happy to read them, then I am fine with them. Most people read to be entertained. If they're entertained by those books, good for them.
You are also active on the Internet. The fact that you have your own blog indicates another aspect of authorship. With such a high rate of Internet access and users, do you think that the virtual media is educative in writing? Do you approve young writers' sharing of their stories on the virtual media? Is this a training for them or unfavorable for reasons like literary theft?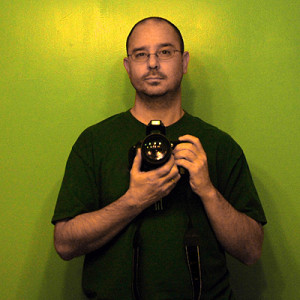 Well, I sold Old Man's War to my US publisher because I put it on my Web site, and an editor read it there and made an offer on it. That was ten years ago. And the popularity of my Web site (which gets up to 50,000 visitors a day) has certainly helped my career. So I think it's fine if newer writers use the Internet and social media to their advantage. As a general rule I think it's probably still a very good idea for writers who want to be published by traditional media to use the usual submission process for that, but as time has gone on we're seeing that there are now lots of different paths to publication now, some of which would have been a bad idea even a few years ago.
Will we see you here in Turkey? Would you consider coming for a signing or panel, etc.?
I would be happy to visit Turkey one day!
Lastly, what would you advise to Turkish readers who desire to be an author?
My advice is actually very simple: If you want to write, then you actually have to sit down and write. There are lots of people who say they want to write but then don't make the time in their daily schedule to write. Writing is work, and you have to write a lot before you get good at it. So if you want to write, then make the time, and make the effort, and don't get discouraged when you start that you're not as good as you would like to be. You'll get better, as long as you keep at it.
---