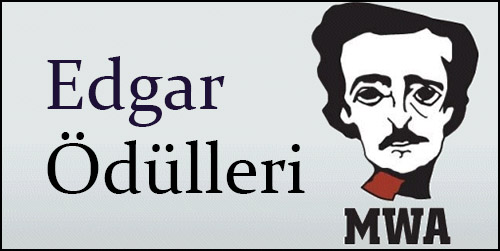 Her yıl "Mystery Writers of America" (Amerikan Gizem Yazarları) topluluğu tarafından, büyük usta Edgar Allan Poe anısına verilen Edgar Ödülleri'nin 2015 kazananları duyuruldu!
Ödüller verilirken bir önceki yıl polisiye/gizem dalında basılan ya da üretilen edebiyat, televizyon, sinema ve tiyatro alanlarındaki eserler dikkate alınır.
Bu yılın En İyi Roman dalının kazananı, aldığı tüm eleştirilere rağmen Stephen King'in Bay Mercedes romanı oldu. King severler bu romanı diğer King romanlarına göre sönük bulmuş ve bir hayli eleştirmişti. Ancak görünüşe göre bu durum ödülü almasına engel olamamış. Bu arada takipçilerimiz hatırlayacaktır, daha önce bu kitaptan bir bölümü sizler için çevirmiştik.
Bir diğer tanıdık isimse En İyi Genç Yetişkin Kitabı kategorisinde. Ülkemizde Hugo ve Nebula Ödüllü kitabı Kurma Kız ile tanıdığımız Paolo Bacigalupi, The Doubt Factory (Şüphe Fabrikası) adlı eseriyle aday olarak görünüyor. Ancak maalesef kazanan isim o değil. Öte yandan yazar aynı kitabıyla, Locus Ödülleri 2015 finalisti olarak şansını bir başka ödülde sürdürüyor.
"2015 Edgar Ödülleri" aday ve kazanan listesini sunuyoruz (kazananlar kırmızı renkle belirtilmiştir):
[stextbox id="black"]En İyi Roman[/stextbox]
[stextbox id="warning"]
This Dark Road to Mercy – Wiley Cash (HarperCollins Publishers – William Morrow)
Wolf – Mo Hayder (Grove/Atlantic – Atlantic Monthly Press)
Bay Mercedes – Stephen King (Simon & Schuster – Scribner) (Türkiye'de yayınlandı)
The Final Silence – Stuart Neville (Soho Press)
Saints of the Shadow Bible – Ian Rankin (Hachette Book Group – Little, Brown)
Coptown – Karin Slaughter (Penguin Randomhouse – Delacorte Press)
[/stextbox]
[stextbox id="black"]En İyi İlk Roman[/stextbox]
[stextbox id="warning"]
Dry Bones in the Valley – Tom Bouman (W.W. Norton)
Invisible City – Julia Dahl (Minotaur Books)
The Life We Bury – Allen Eskens (Prometheus Books – Seventh Street Books)
Bad Country – C.B. McKenzie (Minotaur Books – A Thomas Dunne Book)
Shovel Ready – Adam Sternbergh (Crown Publishers)
Murder at the Brightwell – Ashley Weaver (Minotaur Books – A Thomas Dunne Book)
[/stextbox]
[stextbox id="black"]En İyi Özgün Karton Kapak[/stextbox]
[stextbox id="warning"]
The Secret History of Las Vegas – Chris Abani (Penguin Randomhouse – Penguin Books)
Stay With Me – Alison Gaylin (HarperCollins Publishers – William Morrow)
The Barkeep – William Lashner (Amazon Publishing – Thomas and Mercer)
The Day She Died – Catriona McPherson (Llewellyn Worldwide – Midnight Ink)
The Gone Dead Train – Lisa Turner (HarperCollins Publishers – William Morrow)
World of Trouble – Ben H. Winters (Quirk Books)
[/stextbox]
[stextbox id="black"]En İyi Gerçek Suç Romanı[/stextbox]
[stextbox id="warning"]
Kitty Genovese: The Murder, the Bystanders, the Crime that Changed America
– Kevin Cook (W.W. Norton)
The Savage Harvest: A Tale of Cannibals, Colonialism, and Michael Rockefeller's Tragic
Quest for Primitive Art – Carl Hoffman (HarperCollins Publishers – William Morrow)
The Other Side: A Memoir – Lacy M. Johnson (Tin House Books)
Tinseltown: Murder, Morphine, and Madness at the Dawn of Hollywood
– William Mann (HarperCollins Publishers – Harper)
The Mad Sculptor: The Maniac, the Model, and the Murder that Shook the Nation
– Harold Schechter (Amazon Publishing – New Harvest)
[/stextbox]
[stextbox id="black"]En İyi Eleştiri / Biyografi Kitabı[/stextbox]
[stextbox id="warning"]
The Figure of the Detective: A Literary History and Analysis
– Charles Brownson (McFarland & Company)
James Ellroy: A Companion to the Mystery Fiction
– Jim Mancall (McFarland)
Kiss the Blood Off My Hands: Classic Film Noir– Robert Miklitsch (University of Illinois Press)
Judges & Justice & Lawyers & Law: Exploring the Legal Dimensions of Fiction and Film
– Francis M. Nevins (Perfect Crime Books)
Poe-Land: The Hallowed Haunts of Edgar Allan Poe
– J.W. Ocker (W.W. Norton – Countryman Press)
[/stextbox]
[stextbox id="black"]En İyi Öykü[/stextbox]
[stextbox id="warning"]
"The Snow Angel" – Ellery Queen Mystery Magazine – Doug Allyn (Dell Magazines)
"200 Feet" – Strand Magazine – John Floyd (The Strand)
"What Do You Do?" – Rogues – Gillian Flynn
(Penguin Randomhouse Publishing – Bantam Books)
"Red Eye" – Faceoff  – Dennis Lehane vs. Michael Connelly (Simon & Schuster)
"Teddy" – Ellery Queen Mystery Magazine – Brian Tobin (Dell Magazines)
[/stextbox]
[stextbox id="black"]En İyi Çocuk Kitabı[/stextbox]
[stextbox id="warning"]
Absolutely Truly – Heather Vogel Frederick (Simon & Schuster Books for Young Readers)
Space Case – Stuart Gibbs (Simon & Schuster Books for Young Readers)
Greenglass House – Kate Milford
(Clarion Books – Houghton Mifflin Harcourt Books for Young Readers)
Nick and Tesla's Super-Cyborg Gadget Glove – "Science Bob" Pflugfelder
and Steve Hockensmith  (Quirk Books)
Saving Kabul Corner – N.H. Senzai (Simon & Schuster – Paula Wiseman Books)
Eddie Red, Undercover: Mystery on Museum Mile – Marcia Wells
(Houghton Mifflin Harcourt Books for Young Readers)
[/stextbox]
[stextbox id="black"]En İyi Genç Yetişkin Kitabı[/stextbox]
[stextbox id="warning"]
The Doubt Factory – Paolo Bacigalupi (Little, Brown Books for Young Readers)
Nearly Gone – Elle Cosimano (Penguin Young Readers Group – Kathy Dawson Books)
Fake ID – Lamar Giles (HarperCollins Children's Books – Amistad)
The Art of Secrets – James Klise (Algonquin Young Readers)
The Prince of Venice Beach – Blake Nelson (Little, Brown Books for Young Readers)
[/stextbox]
[stextbox id="black"]En İyi Dizi Senaryosu[/stextbox]
[stextbox id="warning"]
"The Empty Hearse" / Sherlock, Senaryo: Mark Gatiss (Hartswood Films/Masterpiece)
"Unfinished Business" / Blue Bloods, Senaryo: Siobhan Byrne O'Connor (CBS)
"Episode 1" / Happy Valley, Senaryo: Sally Wainwright (Netflix)
 "Dream Baby Dream" / The Killing, Senaryo: Sean Whitesell (Netflix)
"Episode 6" / The Game, Senaryo: Toby Whithouse (BBC America)
[/stextbox]
[stextbox id="black"]Robert L. Fish Anısına[/stextbox]
[stextbox id="warning"]
"Getaway Girl" – Ellery Queen Gizem Dergisi – Zoë Z. Dean (Dell Magazines)
[/stextbox]
[stextbox id="black"]Mary Higgins Clark[/stextbox]
[stextbox id="warning"]
A Dark and Twisted Tide – Sharon Bolton (Minotaur Books)
The Stranger You Know – Jane Casey (Minotaur Books)
Invisible City – Julia Dahl (Minotaur Books)
Summer of the Dead – Julia Keller (Minotaur Books)
The Black Hour – Lori Rader-Day (Prometheus Books – Seventh Street Books)
[/stextbox]
[stextbox id="black"]Büyük Usta[/stextbox]
[stextbox id="warning"]
[/stextbox]
[stextbox id="black"]Kuzgun Ödülleri[/stextbox]
[stextbox id="warning"]
Ruth & Jon Jordan, Crimespree Magazine

Kathryn Kennison, Magna Cum Murder
[/stextbox]
[stextbox id="black"]Ellery Queen Ödülü[/stextbox]
[stextbox id="warning"]
Charles Ardai, Editör ve Kurucu, Hard Case Crime
[/stextbox]